My relationship with this car began in 1992 while I was on vacation in Florida. A long time friend of mine had been looking to purchase the car and gave me a call to take a look at it. The car was in mostly good shape outside and looked fairly original. Inside, the car had some awful dark tinting on the windows and had given up it's original radio to a fine Kraco unit. After taking the car on a drive we arrived at the fact that someone had replaced the fuel injection system with a Rochester QuadraJet and stock 4BBL intake manifold. The conversion was somewhat of a "back yard" modification, but it appeared functional. My friend decided to purchase the car and I left Florida for home shortly after that.
My friend kept me informed on the trials and tribulations of the Imperial over the next year. It suffered from a variety of problems including an anoying tendancy to stop running due to some electronic ignition failure. It finally got to the point where his wife would no longer drive the car and he decided to put it up for sale. After trying unsuccesfully for some time to sell it, he and I struck a deal involving an old Chevy convertable I had put in storage 3 years prior. He and his wife made a trip up north for a visit and I prepared the convertable for a trip back down south. Fearless, as we always were, we set out to make a 1200 mile trip in a car that had not seen daylight in 3 years and was running on a set of tires that I estimated were 11 years old. All was going fine until one of the aged tires decided to give up to a belt separation. After replacing our tired tire with the trusty bias-ply, recapped, studded snow tire, we decided a trip to a local tire store was in order.
With at least 25% new rubber and our trusty spare back in the trunk, the trip resumed. Unfortunately, only a few hundred miles later, one of the three remaining old tires gave up in the same fashion as the first one. Once again, we mounted our trusty spare in place of the faulty tire and continued the trip. In the interest of not wanting to hang around another tire store, we decided that the trusty old snow tire would have to get us the rest of the way. My friend, having already given his wife a complex about driving old cars he had purchased, was now faced with her not even wanting to ride in this one again.
We made it to Florida and I said goodbye to the convertable and hello to a new project. I was filled in on all of the other problems the Imperial had been expiriencing, including the replacement of it's rear axle, and ignition system. I had already resolved myself to believe that this car would represent a project. Unfortunately, the project started somewhat before I left on the trip home. After tracing a trail of green coolant to it's source, I decided I had better put a water pump in before I left on my trip. Water pumps on a 318 are easy enough to get off, except for the fact that everything on the front of the engine is somehow attached to the water pump.
While I was under the hood, I decided to have a look around at some of the other problems that seemed to plague this car. There was an noticable tick that seemed to be partly the fault of a leak in the air pump tubing. Another obvious part of the noise was some valve clatter from the engine, but I decided it would be better to leave that diagnosis until I got the car home. There were many oil and coolant leaks from all parts of the engine, and the electrical wiring was a disaster.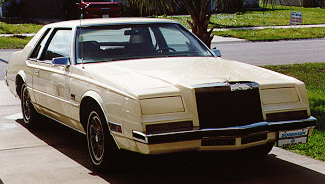 My '82 as it looked when I picked it up.
Although the exterior was in good condition, this photo cannot
begin to show the number of mechanical problems that the car had.
After wasting a day on the water pump project, I decided the Imperial was road worthy enough to make the trip home. With a supply of tools and various fluids that I may need on the way, I set out on my trip. Shotrly after getting on the road I discovered that my investment in new wiper blades had been a good choice, it rained nearly the whole trip back. Unfortunately, someone had removed the washer resevoir while working on the car and had not seen fit to replace it. Along the way I routinely checked vital fluids at every convienient stopping point. While the two quarts of oil that were consumed along the way was mostly due to leakage, not much else required refilling.
After a trip home that was made longer by the need to drive the car at or below 60 MPH to reduce the driveline shake, I made it home in one piece. Being November already, I had decided from the start that I would put the car in storage until I had more time to work on it.
---